Target the fastest growing companies in America with our curated & expert researched list of 5000 fastest growing companies based on Inc. magazine's 2017 Inc. 5000 list.
We research each company for its full company information, decision maker contacts, technology usage data and other factors to deliver a marketing-ready database that is ready to go.
5000 companies

with phone numbers, addresses & demographic data

13,935 decison makers contacts

including all C-level & VP-level execs with email addresses

Detailed technology usage profiles

of all 5000 companies to understand who uses what tech/apps
The data is delivered as a standard CSV file and we have multiple sheets in the file to see just the full 5000 company data, to view decision maker contacts at all companies and a lot more. We continuously update the list and once you buy you automatically receive all the future updates as well - at today's low introductory price.
Actionable Account Data
Our data research team has curated account data for every company complete with phone numbers, addresses, revenue, employees & industry information.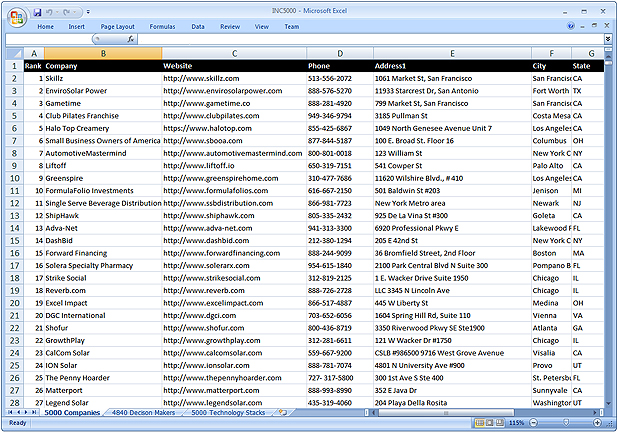 Discover Decision Makers
We have identified key C-level and VP-level decision makers at all 5000 fastest growing companies with their social profiles & direct email addresses.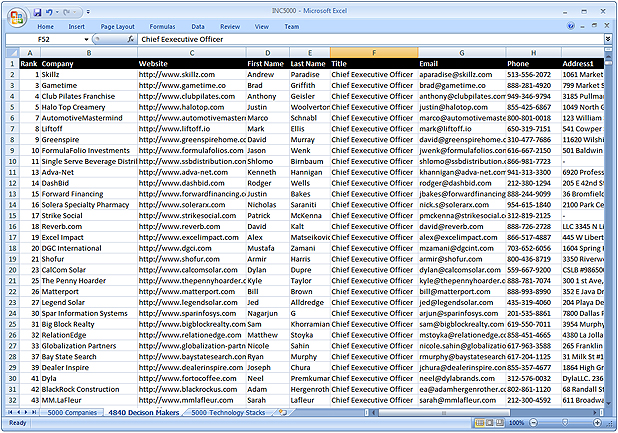 Understand Technology Stack
We have profiled all 5000 companies for their technology and application usage and are adding detailed tech stack for each company. New data is updated every week.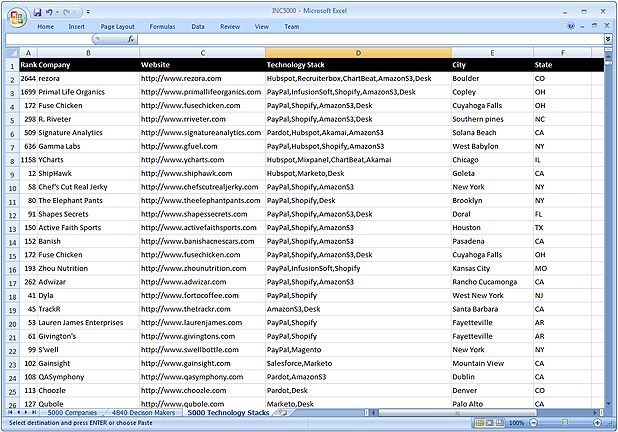 Free Updates
We track all Inc. 5000 companies and add new contacts as well as new technology install intelligence every 30-60 days. All updates are made available free to you once you purchase the data today.