Over the years, B2B marketing firms have been greatly invested in content marketing strategies and demand generation to be able to build awareness and interest in their products/services and reap benefits in many forms including a constant new stream of leads.
However, ABM or account-based marketing has emerged as a powerful complementary strategy to help businesses with accelerated sales cycles and with better chances of closing more deals and penetrating new markets.
Account-based marketing was first pioneered by ITSMA in the early 2000s as a focused and strategic approach to create sustainable growth and profitability with a few of a company's most important clients.
Source: growdigitally
As per a survey conducted by ITSMA, 87% of account-based marketers say that ABM initiatives outperform their other marketing investments. In another study conducted by TOPO, 86% of marketers say ABM improves win rates.
And yet, many B2B marketers are still far from adopting ABM. A recent study revealed that only 22% of marketers confirmed to have an ABM strategy in place as against 34% that are in the planning phase and almost 30% (of total surveyed) with no plans for ABM adoption in the future.
If you're also clueless about how to get started with a robust ABM strategy to skyrocket your B2B sales, this post is for you. In this comprehensive guide, we are going to explore and discuss various aspects of ABM along with tips on how to get started with an ABM campaign successfully.
What Is Account-Based Marketing?
Account-based marketing is a strategic marketing approach that involves flipping the sales funnel to form a focused group of accounts and personalizing efforts to close these accounts.
As a new standard for strategic communication efforts, ABM is seen as a hyper-targeted approach in which businesses engage with carefully selected sales prospects through thoughtful, personalized communication.
This encompasses multiple marketing initiatives tied up as an integrated program incorporating multiple channels, both online and offline.
Account-Based Marketing Vs Inbound Marketing: Which One Is Better?

Source: wsidigital
Choosing between inbound marketing or ABM is a common dilemma for many B2B marketers. However, the ideal way is to use both these core practices in a way that they complement each other. And to do this, you first need to know both the similarities and differences between these two approaches.
Among the common aspects of both these strategies include -
The customer remains center stage
The basis of both the approaches is valuable content
The differences between ABM and inbound marketing -
Inbound marketing primarily starts when a customer or visitor looks for/reads your content. Whereas an account-based marketing approach requires you to take targeted efforts and talk to your ideal prospect directly, instead of waiting for them to engage with you.
Another area of difference is larger deal sizes in ABM as compared to inbound marketing, where the number of deals would be greater in most cases.
Different ABM Approaches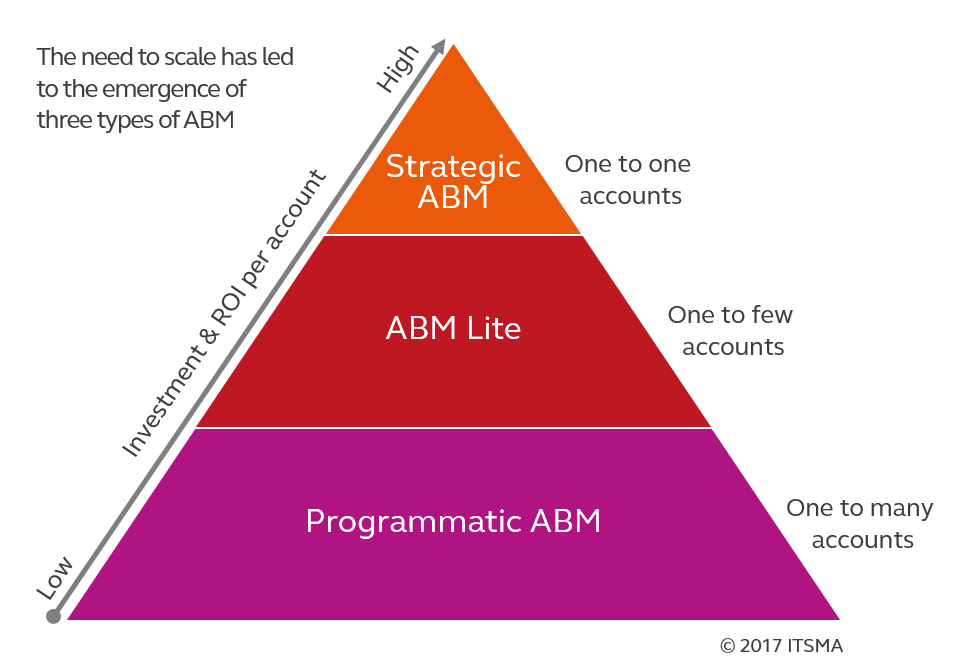 Source: itsma
The growing interest and demand for ABM in the last few years has led companies to develop and implement three distinct types of ABM -
1. Strategic ABM
This is the original ABM approach that is usually reserved for strategic accounts and executed on a one-to-one basis by creating and executing highly-customized marketing plans for individual accounts.
The objective of strategic ABM is to build stronger relationships with the company's most valued customers and prospects using highly targeted marketing interactions that demonstrate a deep and in-depth understanding of their business issues.
2. ABM Lite
ABM Lite is based on a one-to-few model that is typically applied to groups of strategic importance and/or second-tier named accounts instead of individual accounts that share similar business challenges, attributes, and initiatives.
3. Programmatic ABM
This is one of the newest approaches to ABM, and here the marketing shifts its traditional focus from generating, tracking, and nurturing leads by an individual to an account-based view.
Also known as a one-to-many approach, this is possible due to the latest technologies that enable seamless targeting, analytics, and personalization across large groups of identified accounts.
As a marketer pushing to launch, design, and expand your marketing programs, you need to clearly understand the differences and implications of each type to be able to create an optimal strategy and make sure that sales and marketing teams are aligned completely with the ABM approach or approaches they are taking.
Advantages Of ABM
The advantages of account-based marketing are well known and documented. The approach is gaining rapid popularity among B2B companies because of the several benefits it provides over other traditional marketing approaches.

Image Source
Some of the most noteworthy advantages of ABM are discussed below -
1. Narrow Down The Focus On High-value Accounts
Account-based marketing allows you to optimize for quality by selecting a list of accounts that best align with your ideal or most valuable customer profile. This helps you to easily filter low-value prospects and prioritize time and resources where you'll see the greatest impact.
2. Reduced Sales Cycle
The sales cycle of most businesses requires a lot of time in the decision-making process because it starts at the lowest level and slowly works its way up to the top management who must make the final buying decision.
With the account-based marketing approach, the right prospects, including the final decision-makers, can be nurtured at the same time, decreasing the sales cycle substantially.
3. Alignment Of Sales And Marketing
The marketers using the ABM approach are in complete alignment with the salespeople they work with, speaking the same language and having the same knowledge.
Working in close collaboration with sales allows them to identify target accounts accurately, map them out, and align on sales initiatives. Such targeted efforts between marketing and sales lead to powerful and predictive marketing and onboarding of better accounts.
Research by Forrester also suggests that organizations with aligned sales and marketing teams experience an average of 32% annual revenue growth, whereas less aligned companies see a 7% decline in growth.
4. Better ROI
As an excellent way of marketing, ABM is very targeted, precise, personalized, and accurate as compared to general inbound and outbound marketing strategies. This makes it much easier to measure ROI. Seasoned marketers who have used ABM consider it to be one of the best methods to deliver high returns.
Getting Started With An Account-Based Marketing Campaign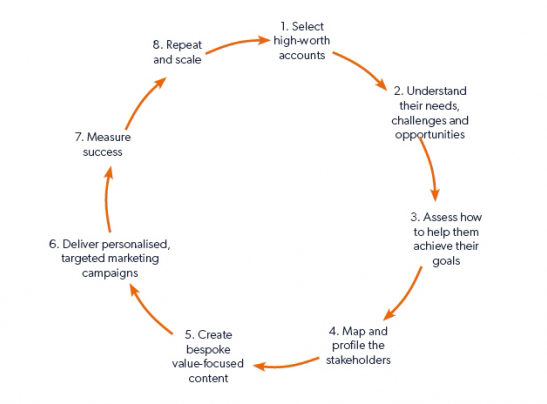 Image Source
In this section, we will take a look at how you can get started with your ABM campaign successfully -
1. Identify and create a list of target accounts
The key idea behind the account-based marketing approach is tailoring campaigns for specific accounts. This requires you to begin your campaign by identifying a list of key accounts.
The simplest way to target ideal accounts is to collaborate with your sales teams and ask them which accounts they would like to close. However, you need to make the process very data-driven instead of just guesswork.
Begin with your existing customer data and find companies that perfectly match your ideal target customer to help you narrow down the list of targeted companies who would like to conduct business with you in the future.
Once you have identified a list of companies, search for their profile pages and look for similar companies based on company size, company type, industry, and specialties.
2. Do thorough research on each account and tier them
The key information that you need to collect as part of your research phase -
Company- marketing share, company history, revenue
Market - the type of industry, company size, main competitors
People - top management, key roles, influencers
Relationships - reporting, organizational structure
The best place to find this information is on the company's websites, annual reports, or in press releases. Another aspect of the research phase is to identify and get access to key decision-makers who influence the buying decision.
Once the research on your account list is done, you will have to tier the accounts you have identified, depending on the size of the opportunity and the chances of success in three tiers -
Strategic ABM tier - one-to-one approach
Scale ABM tier - one-to-few approach
Programmatic ABM tier - one-to-many approach
3. Select your channels and develop your messaging
The key reason why account-based marketing is so effective is that it allows marketing teams to proactively engage best-fit accounts instead of just waiting for qualified leads to come to them. And to do this, you need to select appropriate channels to help you reach those accounts.
Some of the most effective channels and activities you can use for your ABM campaigns include -
Owned Media - Include the channels your company has complete control over such as blogs, websites, communities, print catalogs, and internal events.
Paid Media - Paid media include paid advertising or sponsorship opportunities such as radio/print ads, conference sponsorships, or TV commercials.
Earned Media - This channel primarily includes free media impressions earned via likes, shares, media coverage, or retweets.
Paid Social Media - This includes paid advertising via social media channels such as Twitter, Instagram, LinkedIn, and Facebook paid ads.
Once you've identified and selected your marketing channels, it's then time to create specific and targeted content that will resonate with your audience.
Here again, you have the choice to create marketing assets for different company sizes, buyer personas, verticals, or stages of the sales cycle. The more personalized option is to create one-to-one messaging for each account.
4. Execute your ABM campaign
Once you have all the right pieces in place, it's time to engage your prospective clients. What you need to remember here is that there is no one-size-fits-all approach when it comes to connecting with your prospects.
While some of them will appreciate more traditional tactics such as direct mail or cold calling, others may respond better to social media interaction.
Doing your research properly plays an important role here as it helps you determine which strategy your target customers will respond to best.
To help you understand this better, here are a couple of examples of how different companies execute their ABM campaigns -
a. Bizible Sends A Care Package
Source: bizible
To delight customers and stand out from the crowd, Bizible connected with their target prospects by sending them a physical care package through the mail.
Here is how they did it -
They first identified the key decision-makers account list
This was followed by creating multiple custom care packages which included a physical copy of their Total Economic Impact Bible
After this, they donated to an environmental charity in their prospect's name and personalized it further by sending them a handwritten card
Bizible then followed up with each of their prospects to ensure that they received their care package and sent them links to customized landing pages that addressed the key decision-makers by name.
How did it help?
Adopting such a personalized ABM approach allowed Bizible to generate over $33,000 in additional revenue and enhanced their quarterly sales quota by 15%.
b. Events Marketing By Terminus
As event marketing is a big part of their overall marketing strategy, Terminus identifies and creates events specifically for those on their targeted accounts list.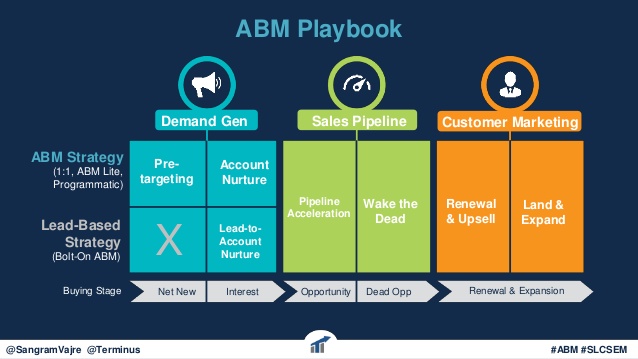 Image Source
To ensure that their prospects are fully aware of the event, they target them with digital ads and content. Post the event, even if the prospect didn't attend the event (but had shown interest in it), the Terminus team would proactively reach out to them through a mixture of marketing strategies including cold calls and email marketing.
How did it help?
This simple approach allowed Terminus to actively reach out and ensure that their prospects are aware of their brand and offerings/services before even contacting them, while also being at the forefront of displaying their level of authority and expertise beforehand.
Using this focused ABM strategy, Terminus was able to convert up to 27% of the accounts on their list within the year.
5. Review, measure & optimize
Similar to any other aspect of the business, creating the perfect ABM strategy is largely about constant evolution and re-iteration.
Regardless of how powerful your ABM strategy is, you cannot expect significant results immediately. It's important to keep in mind that building the right ABM strategy requires a lot of time and effort. But if done right, it can offer outstanding results and help you bag bigger and better deals.
To ensure this, here are some key metrics to focus on when reviewing the success of your ABM strategy -
a. Win/Loss Rate
Checking your overall win/loss rate is the first basic metric to check the effectiveness of your ABM campaign. Make sure to study the key differences and gain deeper insights about your most successful customers and the ones that failed regularly.
b. Pipeline Velocity
One of the core strengths of the ABM approach is to understand how long it takes you to move a lead to a sale. The best way to achieve this is by mapping out all the touchpoints that a customer has with your brand, along with their accompanying metrics.
Go through the standard metrics such as digital ads and the open and click-through emails to figure out if there are any hurdles in your customer's journey.
Also, do not hesitate to experiment with new ideas and tactics to shorten the overall sales cycle.
c. Customer Experience
Leverage the below surveys to gather feedback from your customers regularly -
Customer Effort Score (CES)
Customer Satisfaction Score (CSAT)
Net Promoter Score (NPS)
You can use these surveys at every stage of the customer journey to understand their POV as well as pain points they might be facing to identify various ways that you can improve.
Top Account-Based Marketing Tech
Technology can play a great role in supporting sales and marketing teams pursuing ABM, in a variety of ways -
General account-based tools
Marketing & sales intelligence
Customer data, analysis, and insight
Content management
Marketing automation
Fully integrated cross-channel orchestration
CRM
Email marketing and personalization
Predictive analytics
Ad tech and retargeting
Conversational marketing
While there is no doubt that these tools can be instrumental in executing personalized ABM at scale, human touch plays an equally important role in maximizing the benefits of your ABM marketing strategy.
It is, therefore, important to strike a balance between strategy, machine, and man. Go for an investment in tech-based strategies for your business's specific ABM maturity journey, strategy, and challenges.
Account-Based Marketing Mistakes To Avoid
Account-based marketing is an excellent strategy if it is done right. However, you need to avoid the common ABM mistakes to ensure that it is done right -
1. Not defining goals
Your ABM campaign is bound to fail if you fail to set the right kind of goals in the beginning. Begin with key performance indicators and focus on various areas of engagement and penetration.
2. Inaccuracy in data
ABM implementation involves collecting data from a variety of sources that may not all be correct. This data should be accurate enough to tell a complete story that will allow you to make informed marketing decisions.
3. Failing to map the right individuals
For effective ABM implementation, it is important to build your secondary plans around the account and primary plans around the people in the account.
4. Not prioritizing metrics
Make sure to not lose focus on metrics that are the most valuable and guarantee success.
5. Not running a pilot
Never commit the mistake of switching from your existing marketing efforts and go full ABM overnight. To drive your ABM-centered approach successfully, it is important to run a pilot project as a starting point.
Running a pilot helps you build the practice, optimize and gradually scale your efforts, and also allows you to learn what is working and what is not.
The Future Of Account-Based Marketing
With a growing focus and advances being made in the marketing and technology domain, account-based marketing is going to get better and stronger as well. The future is likely to see ABM involving cutting-edge technologies such as artificial intelligence and ML algorithms where content is intelligently created based on buyer intent and data.
However, to be able to implement a successful and effective account-based marketing strategy, companies need to have a high level of preparedness and resourcefulness throughout the organization. And this is where it is smart to use resources from credible firms like ReadyContacts to market to an audience that's listening, instead of a cold audience that is a waste of your precious marketing budget.
Looking for a dataset?
Get a customized dataset for your next campaign from Ready and save yourself from expensive annual subscriptions :)
BY MARKETING LEADERS
"After piloting various data vendors, it was easy to see that ReadyContacts is a cut above."

Anna Jensen
Director of Marketing, DigitalShadows