Account-Based Marketing (ABM) is an outreach tool in business-to-business marketing that has the ability to significantly benefit your company in opening up to new markets, attacking new verticals, or engaging prospects, when approaching events or product releases.
However, this type of marketing requires significant preparation, coordination across several departments, and timed execution, without which you will burn through six months for an ineffective campaign and would have to incur exorbitant expenditures.
Here's How You Can Devise A Robust ABM Strategy For Your SaaS Firm
Growing an ABM strategy from ground zero to an extensive lead-generation effort can daunt companies with minimal experience.
If you are considering implementing account-based marketing tactics for your organisation, check out these steps to ensure that it turns out to be a success -
1. Connect With The Right Audience
The process of connecting with your target audience, who may or may not have heard of you, and asking them to use your products can make them suspicious. They can turn you down coldly.
People today are swift to discard a message from an unfamiliar sender who might be giving them another sales pitch. They might glance at the subject of the messages received in their inbox before shoving them in the trash.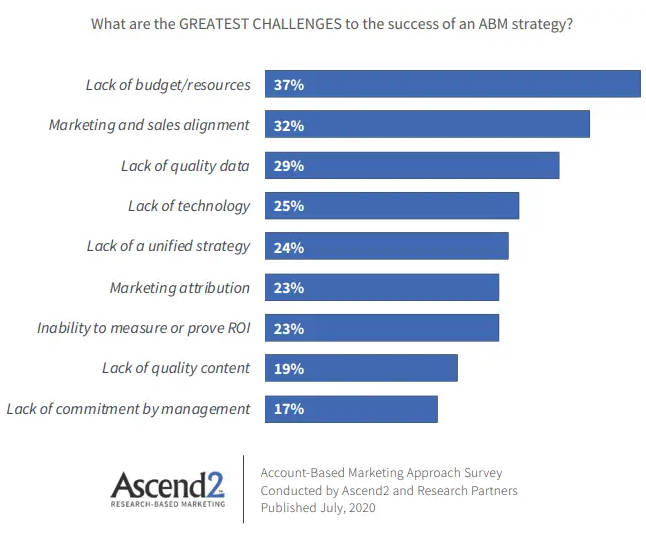 Because of such a mindset of today's generation, your initial outbound messages must immediately serve value for the reader by using the following key elements -
Send A Personalised Message - Prove it to the people that you have reached out to them individually by researching them well.
Tap Into Their Fears And Dreams - Use the personas to create messages that prove to the reader that you recognise their pain points, and you can suggest measures to improve their lives.
Appeal For Help - People are more likely to assist someone who asks for it upfront as they feel significant and possess expertise that you lack, and feel good about serving someone else as a goodwill gesture.
Offer Something In Return - People will more likely read and respond to your messages if they receive something in return. This offer includes industry knowledge, information concerning best practices, or anything fancied by the reader.
2. Devise Target Account Lists & Ensure That Your Data Stays Clean
To develop your target account lists, first, you must get the basic knowledge of individuals who work at the businesses you are seeking to gain as clients.
Here is how you can get your hands on this type of data -
Buying it from a data provider that is credible
Organising it by attending trade shows, conferences, and other significant events
Researching with LinkedIn Sales Navigator, target account websites, as-well-as other online directories
Once you acquire this raw data for your target accounts, be sure to examine your list thoroughly for typos and formatting errors. Also, be sure to check for bounced emails through online services.
3. Categorise Your Target Account Lists
While dealing with a single account at a time, your next step when devising an account-based marketing strategy should be to take your list and segregate individuals into three categories, each one for every customer persona.
For instance, if you sell a SaaS to marketers, consider categorising your list as follows -
People with job titles like CMO or VP of Marketing will fall under the check signer segment
People with job titles like SEM Manager or Demand Generation Manager fall under your manager segment
People with job titles like SEO Strategist or Content Writer fall under your daily user segment
By segmenting your list in such a manner, you can add personalisation to the delivered messages and form separate campaigns for different stakeholders within a target company.
4. Employ An Account-Based Structure For Ad Campaigns
After sorting and segmenting lists for all of your target accounts, your next step should be to set up your prospecting campaigns for every account to drive account-based sales.
Consider setting them up with an account-based structure that breaks down the target account campaign set into subsets of segmented stakeholder campaigns.
Every account will feature several campaigns running, showing different ads and messaging across the various customer personas identified by you.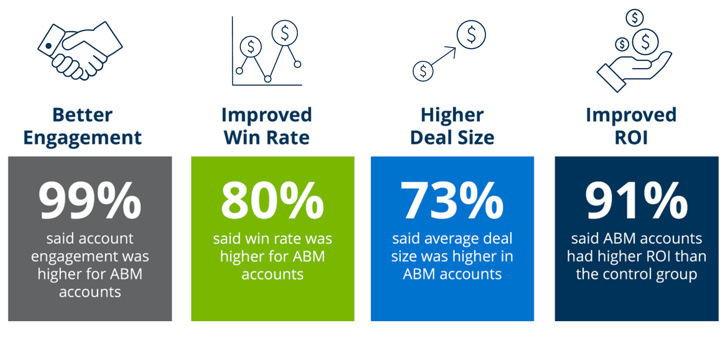 5. Create Relevant Content
To create an effective account-based marketing campaign, post content that presents generic product and company information for awareness, technical intricacies and pricing for consideration, as well as the necessity for conversion.
Here are the types of content that you can create to boost the chances of success for your ABM campaigns -
Emails to every persona (initial outreach, follow-ups, replies, and more)
Landing pages that support primary benefits by providing insights and facilitate form-fills
Thought leadership as well as blog articles for the awareness phase
Product-oriented pages for consideration (pricing, specs, versions, and more)
Testimonials, incentives, and specials for the conversion phase
Consider organising your content into a framework that displays each customer persona, every funnel stage, and the content that applies to each. This gesture enables you to spot and fill content gaps while building a comprehensive plan to address each persona.
There are a plethora of account-based marketing tools in the market that you can utilise to help you with creating relevant content and to achieve better lead generation.
6. Receive Referrals From Your ABM-Sourced Clients
After targeting, messaging, and nurturing your prospects, the ultimate step is to harness the enthusiasm of these newly gained customers to acquire even more clients through testimonials, case studies, and referrals.
This step will give your ABM marketing campaign the boost it needs to stay afloat. It is common knowledge that no one can promote your business to prospects like current clients. Your customers have gone through the specific buyer's journey of many of your prospects.
By exploring the passion of your best clients, you establish valuable collateral for your prospects and present them with the difference that you can bring to their firms.
When asking for referrals, research several automated referral programs. Give away discount codes where your current clients benefit from giving you a referral.
When executing the timing of your requests, consider these four different times -
Post-purchase survey
Post-go-live survey
During an annual check-up
When your client pays
Regardless of when you plan this, your referral campaign should not have a beginning or an end. It should be a steady process. Consider implementing an account-based marketing software to receive more significant clicks from your B2B ads and drive engagement.
Final Words
Before starting with ABM, remember that it revolves around identifying your serviceable obtainable market (SOM) and earnestly approaching them with the appropriate content, messaging and cultivation.
After developing sincere relationships, your work does not hit a period. It is favourable to nurture those relationships and encourage testimonials, referrals, and case studies to encourage prospects.
Looking for a dataset?
Get a customized dataset for your next campaign from Ready and save yourself from expensive annual subscriptions :)
BY MARKETING LEADERS
"After piloting various data vendors, it was easy to see that ReadyContacts is a cut above."

Anna Jensen
Director of Marketing, DigitalShadows